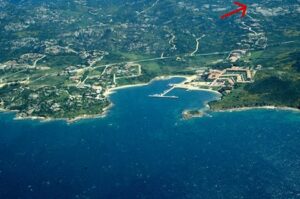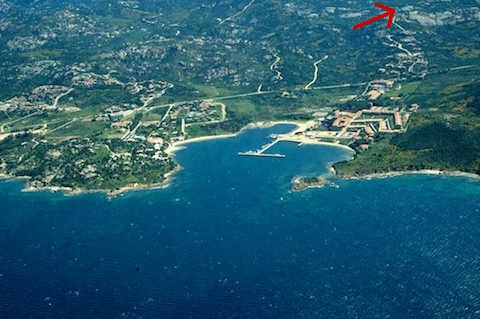 We are here: on the hill of Baia Sardinia, facing the Archipelago of La Maddalena.
Le Querce is 3 km from Baia Sardinia, 6 from Porto Cervo, 12 from Arzachena and 25 from Olbia.
Directions to reach us are given upon booking.
In the houses there is other information about beaches, archaeological sites, naturalistic sites, restaurants, etc.
Indicative prices per house, per day, for a minimum of 5 nights.   (2022 coming soon)

From mid-July to mid-August the minimum is 7 nights.
======== Various info ========
Transportation
Public transport is sporadic and with timetables that do not serve the tourist. To get to us, to fully enjoy the coast and all the places, it is necessary to have a car / motorbike or to rent one.
Hospitality.
Le Querce is a hermitage of peace, silence, meditation. This is why we regret not always having the opportunity to welcome children under 12, groups of very young children, lovers of outings or loud music. Contact us for more information.
Pets.
We are a stone's throw from the sea but in the midst of the Mediterranean scrub. Animals tend to run away and then get lost. Contact us for their welcome.
For everyone's peace of mind we are and only receive vaccinated people.
Arrivals and departures
Arrivals in the morning: the house is delivered in the early afternoon after cleaning and sanitizing.
Arrivals in the evening: no problem for arrivals before 8 pm.(20)
After 8 pm it is subject to the presence of staff.
Departures: the house must be returned at 10 am, in the same condition in which it was delivered to allow for reorganization with sanitization.
More flexible times are possible but depend on the situation.
Services On the spot it is possible to ask for relaxing or therapeutic massages.
Who we are
Giulio, a computer scientist, works on high-level complex services, loves going to flea markets and fixing things. No, not pc, it would be like telling Messi to fix a ball.
Lorenza, Giulio's mother, retired, with two degrees and a few masters, worked in healthcare. She loves the garden, sewing and embroidering.